Geometric Glam: The Art Deco Twist in Lace Embellishments
Geometric glam has been on the rise in the world of fashion for several seasons. With an Art Deco twist, lace embellishments can add a unique touch to any outfit. From subtle hints to bold and daring statement looks, these edgy geometric shapes make a powerful statement.
Using a combination of geometric shapes as well as a mix of floral and foliage, the Art Deco twist on lace embellishments adds a touch of sparkle and interest to an outfit. Whether it's in the form of appliqués, sequins or embroidery, these geometric accents can be seen on various pieces of clothing. For example, geometric shapes can be found adorning skirts, blouses, jackets, and even hats.
The geometric elements can come in many different sizes, shapes, and colors. From diamond-shaped elements to stepped triangles, these accents help to make an ensemble more visually captivating. The combinations are limitless, as you can choose from more modern designs with more curves, to more traditional shapes and angular accents.amain textile co.,ltd
To keep the look modern and chic, try to stick to neutral color palettes when using geometric lace embellishments. This can include shades of gray, black, brass, and silver. However, if you are looking to make a statement with your outfit, you can always opt for bright or metallic colors as a contrast.
Overall, the use of geometric lace embellishments can help to create an eye-catching look that is truly unique and breathtaking. Whether you're looking for a subtle hint of glamour, or an all-out show-stopping outfit, this trend is sure to make a lasting impression.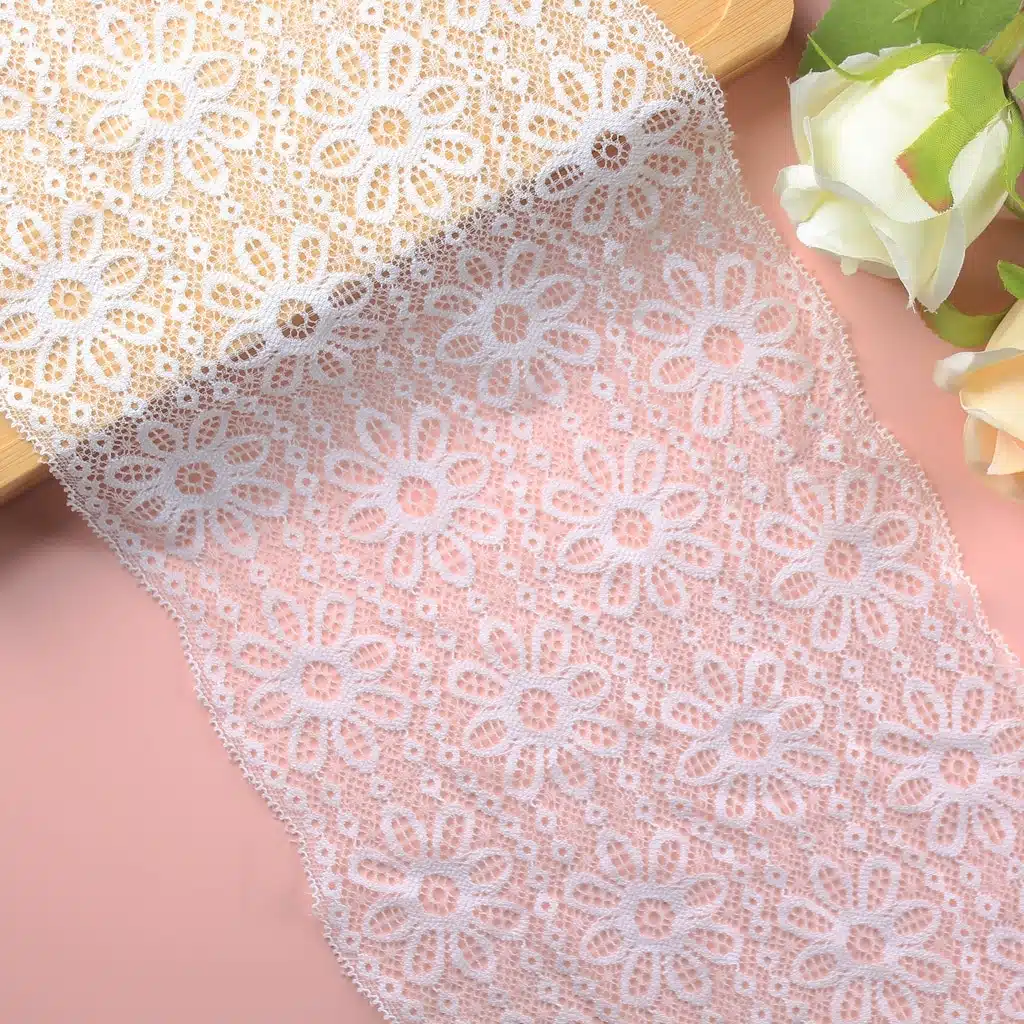 Symbol of Chic: Lace Trim Shapes the Trendsetting World
Lace trim has been a staple in the fashion world since it's earliest days. Now, it's officially deemed a timeless trend – a staple in many wardrobes. From classic bridal looks to the hottest street style, it's popping up in all corners of the fashion industry. The demand for lace trim in clothing is ever increasing as it plays a key role in transforming current trends.
The delicate lace trim can jazz up classic, high-end looks or unique, street style. Designers are adding it to sleeves and necklines on top of dresses and blouses, making it the perfect finishing touch for any outfit. It's also popping up in jackets, skirts, trousers and other items of clothing. The trim isn't just limited to the clothing you wear either. It can often be seen in accessories such as bags, scarves and footwear, adding a romantic and elegant vibe.amain textile co.,ltd
The popularity of lace trim is growing as more people become interested in timeless yet chic fashion. From high-end designers to small fashion labels, all are offering unique garments that incorporate lace trim. The look of lace trim is appealing to those looking to add intricate detailing to their outfits. It can be the highlight of an outfit and provide just the right amount of creative flair.
Not only clothing is being incorporated with lace trim, but also paper goods. Invitations, stationary, journals and other stationary accessories are all being redesigned with lace trim. It adds a bit of elegance, making the perfect detail for any special occasion.amain textile co.,ltd
Lace trim is an iconic fashion symbol that has been seen in the most glamorous of appearances on the runway and in high-end shops. It transcends regions and cultures, making it a truly global trend. In addition to its style, lace trim can also provide comfort for high-end looks. Its airy and light composition makes for a lightweight garment that can be comfortably worn all day long.
It's clear that lace trim is here to stay and will continue to be the symbol of chic that graces the trendsetting world of fashion. Whatever look you're going for, lace trim is the perfect addition to any outfit, setting it apart from the rest.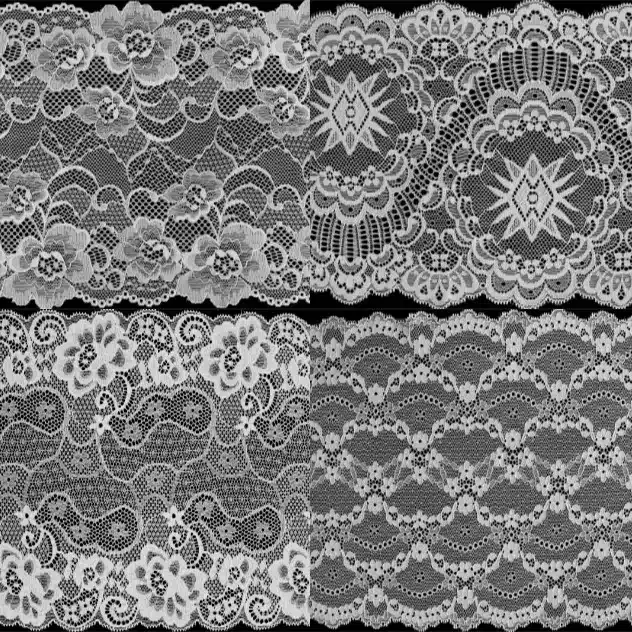 Delicate Adornment: Accentuate Your Graceful Hands with Lace Trim
Accentuate your graceful hands with delicate lace trim! amain textile co.,ltd Our beautiful lace trim is an ideal way to add a touch of charm and femininity to any outfit. It's perfect for adding a subtle contrast and a touch of romance to your look. Lace trim comes in various colors and patterns, allowing you to customize your look to match your mood. Choose from a range of ivory, black, and white lace trims for an enchanting finish.
No matter what you're wearing, a bit of intricate lace trim makes a great addition. Use it to hem dresses and skirts, adding a romantic touch to an otherwise plain look. For a more daring look, pair a statement top or dress with lace trim to add some sensuality and elegance. You can even use lace trim to layer under an outerwear piece for a unique take on the classic look.
For a subtle hint of glamour, wrap your wrists with lace trim for a refined touch. Our lace trims come with elastic so you can tie a bow for a dainty finish and move freely without the worry of losing a bracelet. For a luxurious look, you can embellish the lace trim with gems or beads.
You can also use lace trim to create intricate decorations for your home. Fashion a lace tablecloth or add eye-catching patterns to your curtains or bed sheet. Make the lace trim the star of the show or pair it with a fabric for a unique look. You can also get creative and use lace trims to make jewelry, brooches, fascinators, and so much more.
Enhance your wardrobe and home decor with the beautiful lace trim. With its delicate texture and subtle patterns, lace trim is the perfect choice for any season or occasion. Show off your graceful hands with exquisite lace trim and be the epitome of grace and elegance.
Iconic Choice: Lace Trim Defines Your Timeless Style
Lace trim has been a staple in fashion for as long as people have been wearing clothing. Combining style with functionality, it is an iconic choice for timeless style. Delicate and sophisticated, lace trim offers a subtle yet elegant look that is sure to enhance any outfit.
Whether your style is traditional or modern, there is a lace trim to accommodate your look. Feminine and timeless, lace trim can come in a variety of colors, patterns, and tones. From delicate floral patterns to edgy modern lines, lace can bring your look together with an edge of classic refinement.
When it comes to accessorizing with lace trim, there are endless options. Try layering a lace trim tank or blouse for an extra dainty touch. Accessorize with lace-trimmed lingerie or slip on a sheer lace blouse for a romantic look. Alternatively, opt for edgier lace trim options such as a leather jacket featuring intricate lace detailing.
Lace trim also makes for an elegant, classic choice when it comes to outerwear. Whether you choose a lace trimmed dress, coat, or cape, you can add a timeless flair to your look. Finish your look with a pair of lace trimmed ankle boots or flats for the perfect touch of sophistication.
No matter what look you're going for, amain textile co.,ltd is sure to help you achieve it. Stylish and timeless, lace trim will never go out of style, and will give any outfit an extra special touch. There's no doubt about it – lace trim defines your timeless style.