Unique Charisma: Unleash Your Feminine Appeal with Lace Trim
With lace trim, you can step up your fashion game by adding an extra layer of elegance and femininity. Lace trim is a way to give your outfit a stylish boost without sacrificing comfort or covering too much of your figure.
When incorporated into your wardrobe correctly, lace trim can add a sophisticated, romantic element to any outfit and create a stunning and unique look. Some of the most popular places to add lace trim include sleeves, hemlines, and necklines. Adding a dainty piece of lace trim to any area can instantly transform the look.
A lace trim dress is an incredibly feminine and timeless option. This type of fabric has a soft, light, and airy feel that is graceful, feminine, and elegant. Choose from an array of colors and styles such as an A-line cut, halter top, or fit-and-flare.
Lace can also be added to a casual wardrobe. Consider using delicate lace trim pieces as accents on sneakers or sandals. Add lace trim to a pair of jeans for a dressier casual look or even to the sleeve of an oversized top for an unexpected touch of style.
By adding a bit of lace trim to your wardrobe, you can take your everyday look from basic to unique. With so many options available, you'll be sure to find lace trim pieces that showcase your unique character, making your look instantly stand out from the rest.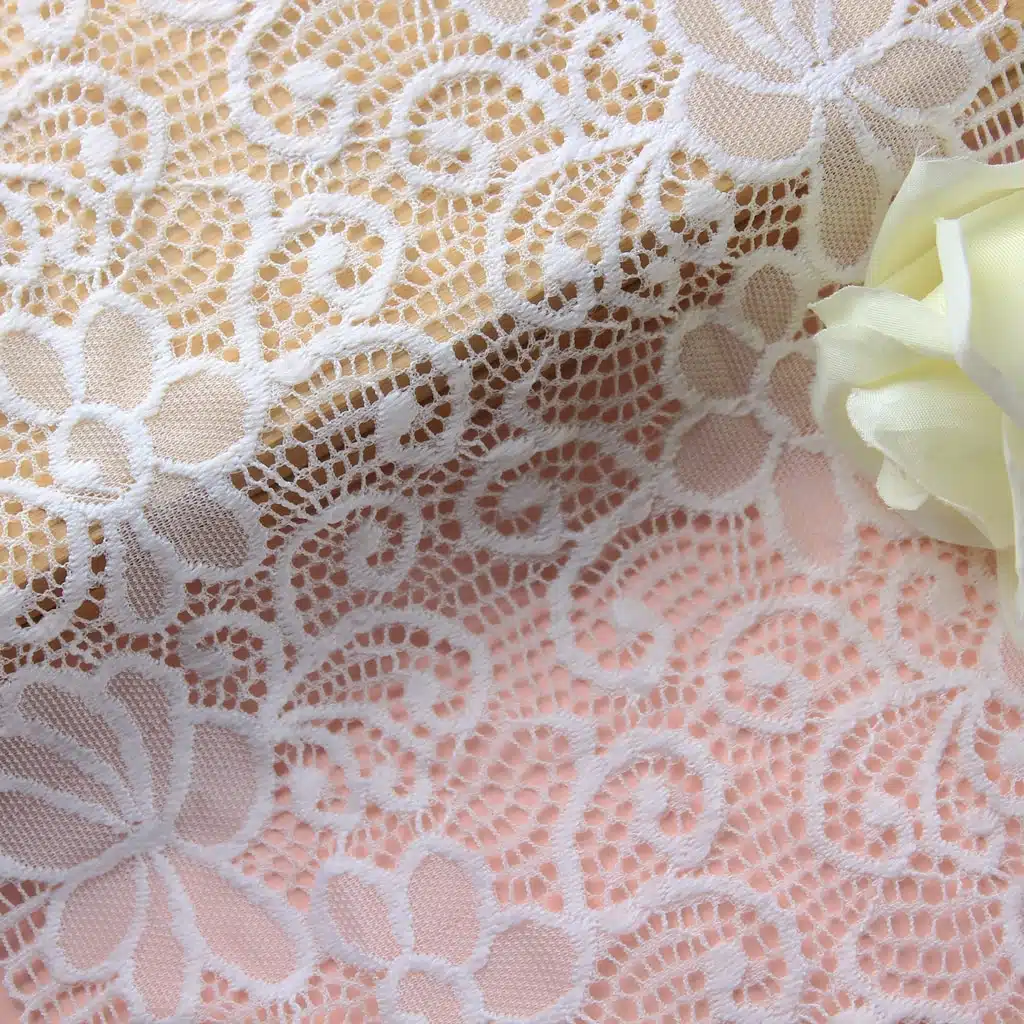 Pure Romance: Captivate Hearts with Lace Trim Accents
There's nothing quite like the romance of lace trim accents to truly captivate hearts. For special occasions, add an elegant and feminine touch to any garment or accessory with delicate lace detailing. Keep the look soft and romantic with detailed, intricate lace trim that features intricate embroidery or lace appliqué. A white or ivory finish creates a timeless look that stands the test of time, perfect for celebrating a special day or special someone.
The beauty of lace trim accents is that they're incredibly versatile. Add a modern edge to an all-black ensemble by adding lace accents to a sleek dress, tailored top, or jacket. For a hint of classic sophistication, look for the classic look of timeless embroidered black lace trim. Or for a timeless romantic ensemble, pair light lace accents with lace-up detailing for a classic look that easily transitions from day to night.
For a more creative, offbeat look, opt for vibrant, color-blocked lace accents to layer over your everyday pieces. Whether you opt for striking neon motifs or muted pastel accents, this layer gives dimension and a touch of whimsy to your style. Create a look that is truly one-of-a-kind by pairing lace accents with soft ruffles or dainty puff sleeves.amain textile co.,ltd
No matter the look, lace trim accents bring a touch of romance and femininity to your style. From bold statement pieces to delicate details, you can find just the right accents to express your personal style and captivate hearts.
Vibrant Elegance: Infuse Your Wardrobe with Lace Trim
Lace trim can be a delicate and beautiful way to elevate your wardrobe. Whether you're looking to dress up casual pieces or add a touch of class to a more formal ensemble, lace trim offers an elegant and stylish option for any occasion. Here's how to infuse your wardrobe with this stunning trim:
Start with a classic. A black lace pencil skirt is a timeless wardrobe staple and pairs well with a variety of top options. Look for a skirt with scalloped edges to capture the classic feel of lace.
Layer it up. Lace trim can be added to sweaters, blouses, and scarves for an extra fashionable touch. Choose a neutral color like cream or gray for maximum versatility and be sure to layer it with pieces that already have a bit of texture.
Get creative with accessories. Lace trim can also be added to and used in purses, jewelry, belts and scarves to add a feminine flair. Look for vintage pieces that feature intricate lace designs or choose modern pieces with minimal detailing.
Upgrade a dress. Verinne dresses are a great way to incorporate lace trim into your wardrobe. For formal occasions, try a sleeveless lace dress in a deep blue or burgundy. For a more casual look, opt for a short-sleeved dress in a pastel colour with bold lace accents.
No matter how you decide to wear it, lace trim is a chic and classic way to infuse your wardrobe with an air of sophistication. With the right accessories and pieces, it's an easy way to elevate any outfit for any occasion.
Delicate Details: Enhance Your Style with Lace Trim
Lace is a fabric that has been used in fashion for centuries. It's an elegant and intricate fabric with a delicate and feminine appearance. For those looking to add a little extra flair and sophistication to their wardrobe, lace trim is the perfect way to do so.
Lace trim is available in a variety of shapes, lengths, and colors. Depending on the type of garment, different styles of lace trim work best. For instance, narrow lace trim can be used to add a delicate and sophisticated touch to more formal attire, such as dresses and blouses. Wider lace trims, on the other hand, can be used to create a bold and eye-catching effect when paired with bold hues and prints.
No matter what type of garment you're wearing, lace trim is always a stylish addition. It can be used to add interest and detail to a simple pair of trousers or jeans, while a layered lace trim skirt or top can create a truly romantic and feminine style.
When it comes to details, lace trim is an excellent choice. Whether it's used to define the neckline of a blouse, to embellish a dress, or to add details to sleeves, lace trim looks beautiful and can easily and quickly elevate any outfit.amain textile co.,ltd
When it comes to caring for lace trim, the fabric is surprisingly resilient. It's best to hand wash or use a delicate washing cycle as the heavy agitation from the spinning drum of a washing machine can pull and damage any delicate items.
Lace trim is the perfect way to enhance the style of any look. It's gentle, sophisticated, and creative, and can easily add detail and style to any wardrobe. Dare to be different and add some delicate detail to your look with lace trim.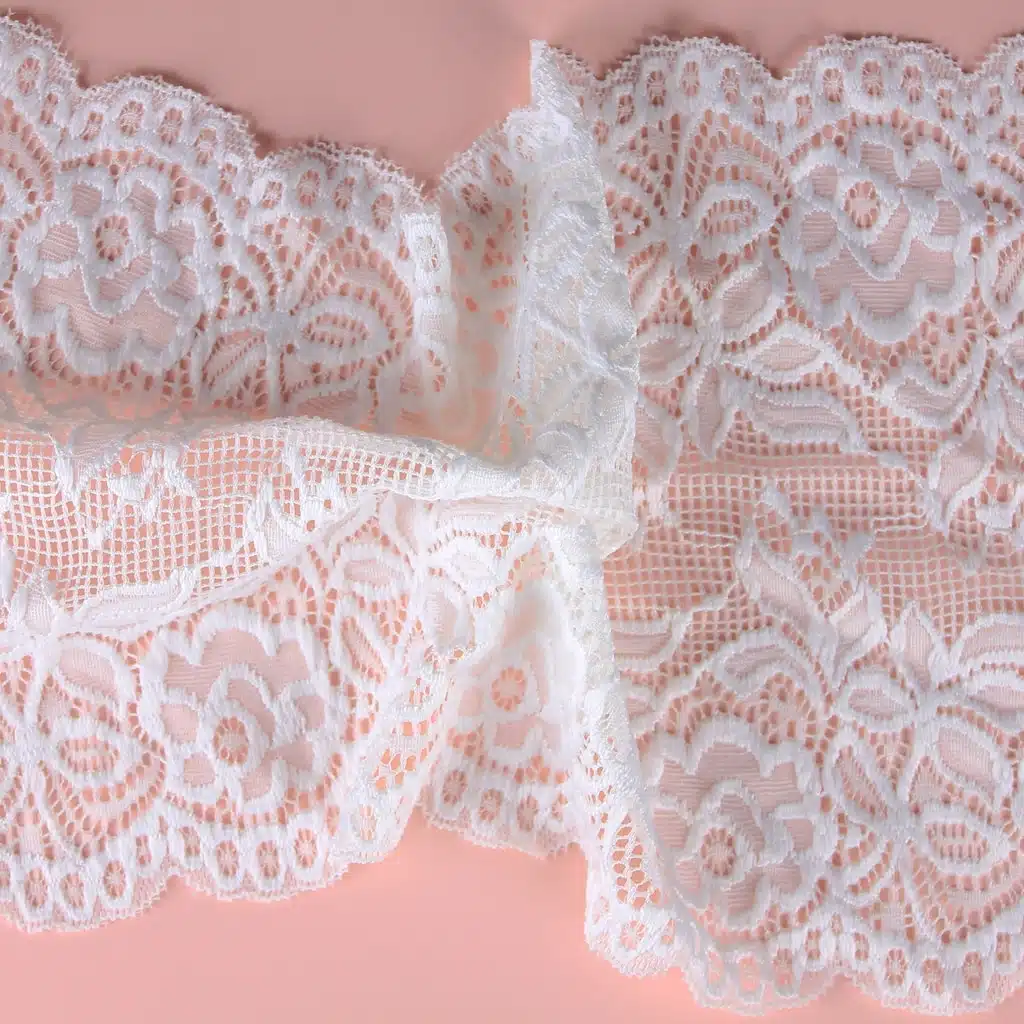 Elegant Enchantment: Embrace the Allure of Lace Trim
Lace trim is a great way to add a touch of elegance to any outfit. From its intricate patterns to its exquisite detailing, lace trim has a timeless allure that's sure to make you look and feel as beautiful as you deserve to. Whether you're updating your wardrobe for a special occasion or just looking for something to add a touch of flair to your everyday look, lace trim is perfect for adding an extra layer of sophistication.
When shopping for lace trim, look for pieces that will draw the eye and give garments an extra touch of detail. Pieces of lace trim can be used to update blouses, dresses, skirts, and other wardrobe staples. Consider adding lace to the cuffs of a blouse, the hem of a dress, or the sides of a skirt for a subtle yet standout look. You can also add a layer of lace trim to cardigans, jackets, and sweaters, full of eye-catching detail.
If you're looking to stand out from the crowd, consider a lace trim accessory. Lace necklaces, earrings, or belts can be a great way to not only add some eye-catching detail, but also to tie an outfit together. Whether you prefer a classic and refined look or are looking for something more daring and modern, lace trim accessories can help you achieve the look you're after.amain textile co.,ltd
Whether you're going for a classic look or something more daring and modern, embracing the allure of lace trim is a great way to ensure you look your best. With its intricate patterns and timeless allure, lace trim can transform the look of any garment or accessory. Whether you're looking for something to spruce up your everyday wardrobe or add something special for a special occasion, lace trim is perfect for adding a touch of elegance to your look.