What are the steps to add lace trim to a plain t-shirt for a stylish upgrade?
Step 1: Gather Your Supplies
You will need a plain t-shirt, scissors, pins, lace trim, thread, a needle, and an iron. You can find lace trim in many varieties at a fabric store or online. Choose the lace trim in the color and style that you like.
Step 2: Measure and Cut
Cut the lace trim to the length that you want. Make sure it's long enough to wrap around the shirt's neckline or armholes, whichever you will be applying it to.
Step 3: Attach the Lace Trim
Pin the lace trim in the desired position on the t-shirt. Make sure to keep the pins in place so the lace stays in place as you work. For a t-shirt with an existing neckline, you can place the lace trim atop the shirt's existing seam. To finish the neckline of a t-shirt without an existing seam, you can stitch the lace trim in place. Also, to ensure the lace stays in place, you can use a few pins along the neckline to temporarily keep it in place while you stitch.
Step 4:Sew the Lace Trim
Thread the needle and tie a knot at the end. Sew the lace trim into place, keeping the stitches small and close together.
Step 5: Prep the Shirt for Ironing
Make sure to remove any pins and thread before ironing.
Step 6: Iron for a Professional Finish
Using an iron, press the lace trim into the t-shirt so it lies flat. If you want to avoid direct heat contact on the lace you can use a thin fabric between the iron and the lace trim. Make sure to use the right temperature for the type of lace you're using.
Step 7: Enjoy Your Stylish Upgrade
After completing your project, you can wear it and enjoy your stylish upgrade. You may also choose to add extra embellishments, such as beads or sequins, to further enhance your t-shirt.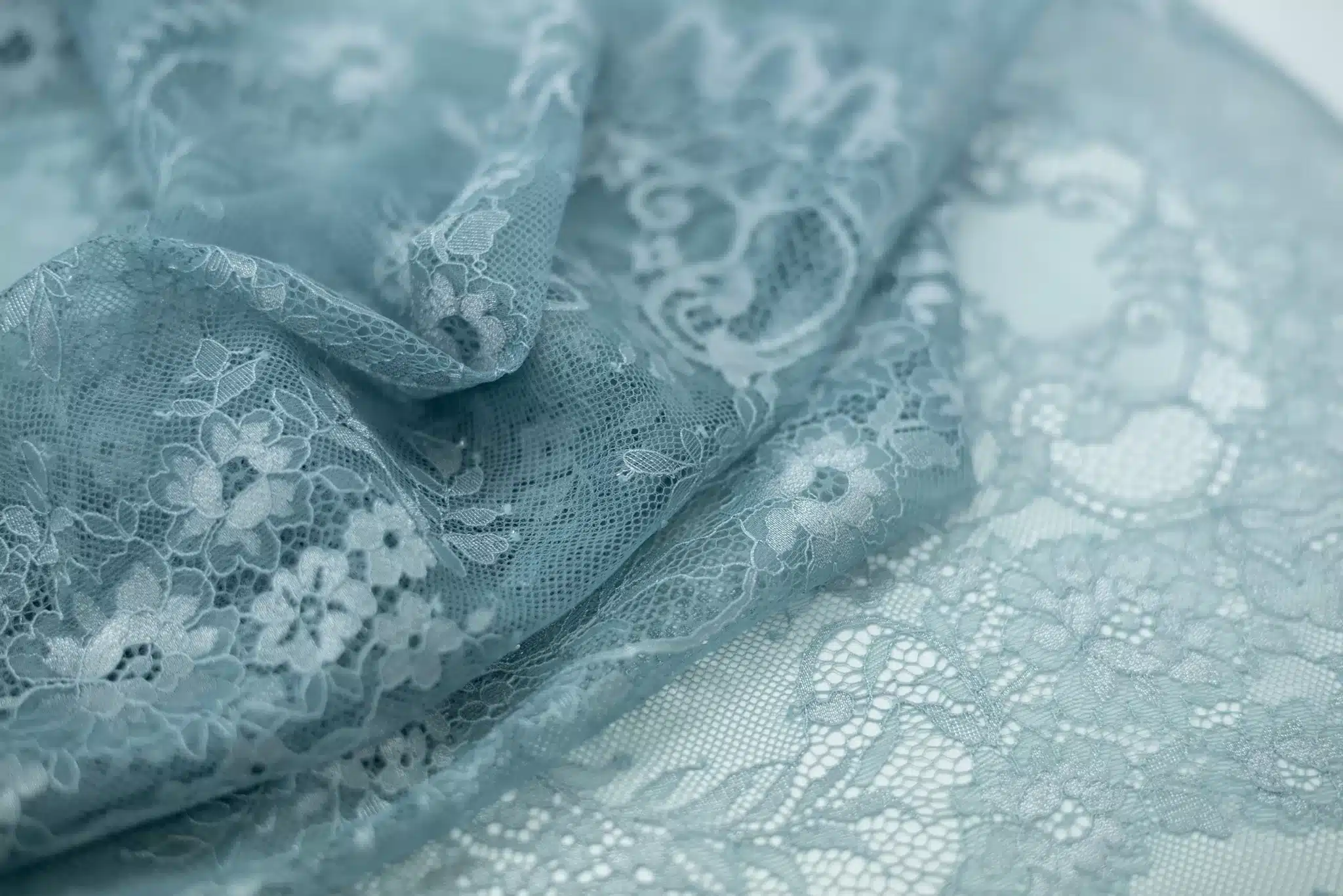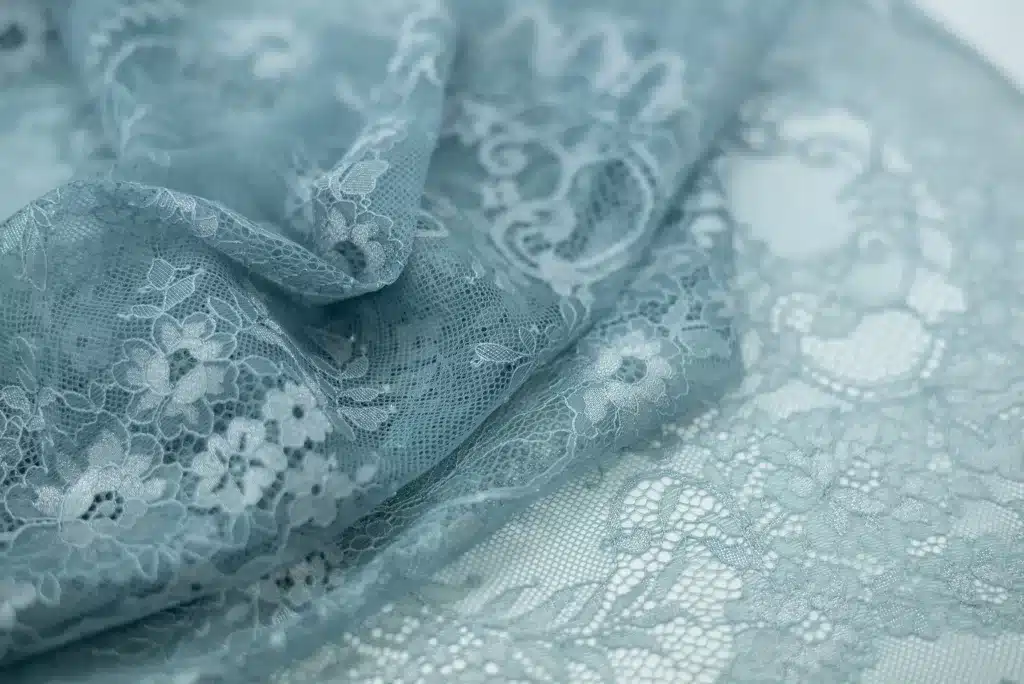 What are the popular uses of lace trim in lingerie and undergarments?
Lace trim is a popular and beautiful choice for lingerie and other undergarments due to its versatility and delicate beauty. Lace has become an iconic look in intimate apparel and can be used for a variety of purposes.
One of the most popular uses of lace trim is to create an elegant, feminine look. Lace is often used to add a delicate, romantic flair to any lingerie piece. It can be used to decorate the edges of bras, panties, night gowns, baby dolls, and more. The small, intricate details of lace are the perfect way to add a touch of luxury to any piece of lingerie. It can be used to create patterns or to highlight other fabric details.
Another popular use for lace trim is to add support and shape to an undergarment. Lace can be used to provide a snug fit while still allowing for breathability, and is the perfect choice for bras and other form-fitting pieces. Specialty lace designs such as power mesh can be used to provide additional support for larger cup sizes.
In addition to decorative and practical purposes, lace is a great choice for lingerie and undergarments due to its comfort. Lace is soft and lightweight, making it ideal for sleepwear or for wearing around the house. It is also an extremely stretchy material, allowing for an ideal fit while still providing comfort. Durable lace fabrics are designed to last a long time and keep their shape with minimal care.
Lace has long been used for special occasion pieces such as bridal lingerie. It is the perfect way to add an ethereal look to a wedding night ensemble. It can also be used to decorate lingerie for special holidays such as Valentine's Day or anniversaries.
The beauty of lace trim is that it can be used in a variety of ways to create unique, beautiful pieces of lingerie. It can be used to highlight details such as straps or form-fitting fabrics, or to provide contrast between two different fabrics. Different colors and patterns can be used to create unique, one-of-a-kind designs. Lace is a great way to add a touch of beauty to any lingerie piece.
Overall, lace trim is a popular and versatile choice for lingerie and other undergarments. It can be used to provide support, comfort, and beauty, making it a great choice for any occasion. Whether it is used to decorate romantic bridal pieces, or to provide a supportive fit, lace is a beautiful material that can help create beautiful lingerie and undergarment pieces.
Is lace trim suitable for both casual and formal attire?
Lace trim is an elegant trimming which can be used to add beautiful detail and femininity to any garment. Depending on the fabric, design, and style of the lace trim, it can be suitable for different types of attire. For casual wear, lace trim generally consists of a more delicate and subtle design, such as narrow lace bands, fine eyelet lace, or a lace trimming in the hem. For formal attire, lace trim can also be used, but it generally is a more intricate and ornate type of lace, such as large floral designs or a heavy Venise lace. Whatever type of lace trim used, its addition can easily turn an ordinary piece of clothing into something extraordinary.
For casual attire, the lace trim can act as an interesting detail, adding texture and interest to a plain outfit. Women's garments made of lightweight fabrics such as chiffon or cotton can be easily enhanced by a fun and flirty lace trim. Skirts, blouses, and evening dresses with a delicate lace trim can give a casual wardrobe a dressy and feminine touch. Depending on the style of the lace trim, different effects can be achieved. Delicate, thin lace trims can impart an airy and delicate look, while thicker and more detailed pieces of lace will impart a more luxurious and grand look.
When it comes to formal attire, lace trim can add elegance and sophistication to an ensemble. Depending on the formality of the event, the type of lace trim will vary. For more sophisticated events such as weddings, graduation dinners, or charity galas, ornate and heavily detailed lace trims are most appropriate. Heavy Venise lace, extensive floral embroidery and large crochet and other intricate pieces of lace are ideal for such occasions. The aim being to achieve a luxurious and more formal look.
For daywear, such as running errands or attending church services, a delicate and subtle lace trim offers an elegant look. Eyelet lace, narrow lace bands, and intricate edging are all appropriate for a semi-formal look. A timeless, classic appeal can be achieved when a smart cotton business dress is adorned with a narrow lace trim at the neck and waist.
When wearing lace trim, it is important to consider its appropriateness in relation to the occasion and the outfit. Generally, lace trim is more suitable for female attire. However, in some cases, it can be appropriate for men's attire too, such as tuxedo jackets with a subtle lace trim.
What are the advantages of using lace trim in clothing and accessories?
Lace trim has been a popular choice of trim for clothing and accessories for centuries. It offers an elegant, timeless look that can be used in a variety of ways.
The first advantage of using lace trim is its aesthetic appeal. Lace trim adds a beautiful and delicate texture and visual interest to any article of clothing or accessory. Depending on the type of lace used, it can bring a more romantic and vintage look for an heirloom-style piece, or an airy and light appearance for more modern designs. Lace trim can also be used to trap in light, creating a classy sheen that will draw the eye to the garment or accessory.
The second advantage of using lace trim is its versatility. Lace trim can be used in so many ways, from delicate edges on dresses and blouses, to waistlines and hems. It is perfect for accentuating the curves of dresses and skirts, as well as adding intricate details to collars, cuffs, and necklines. Its unique type of patterning also allows for the creation of decorative appliques, and lacy ruffles for more architectural shapes.
The third advantage of using lace trim is its durability. When correctly cared for, lace trim can last for years. Most lace trims are temperature-resistant and strong enough to withstand wear and tear from washing and ironing. This makes it a great choice for accessories, like bags and hats, that get used regularly and need to be well-maintained.
The fourth advantage of using lace trim is its affordability. While some types of lace are more expensive, its quality and overall cost make it a very economical choice. It is easy to find lace trim in a variety of colors and sizes, and it can be used to embellish store-bought clothing and accessories, allowing for a much more custom look at a much lower price than buying ready-made items.
lace trim is an excellent choice for clothing and accessories. Its aesthetic appeal, versatility, durability, affordability, and eco-friendliness make it a must-have for any fashion enthusiast. Whether looking for a timeless, romantic look, or something with an eye-catching, modern edge, lace trim is a great way to make any piece stand out.